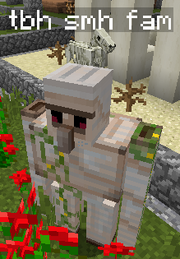 tbh smh fams are a rare and endangered variety of Iron Golems manufactured by RaspingLeech. They can be found in nature preserves and zoos at Billville and Castlemore, as well as in the Cactus Empire. Killing tbh smh fams is highly discouraged and looked down upon by most of the Memeworld community.
Many attempts at counterfeit tbh smh fams have been made. Eventually these counterfeits were named "smh tbh fams".
At some point in the early history of Memeworld, many tbh smh fams were made. They would be killed for their high numbers to a point where very few remain around the world.
On June 16, 2016, a tragedy struck when Penstubal attempted to steal a tbh smh fam from the Billville Zoo. A chase ensued across the desert, and Rasping attempted to rescue the tbh smh fam and return it to its home. However, during the rescue attempt, Penstubal made several attempts to kidnap it again. Finally, Penstubal punched it and sadly killed the tbh smh fam. Everyone in Memeworld was shocked and very mad at Penstubal. Shortly after, Chill declared June 16th to be tbh smh fam Day, in honor of tbh smh fam. The tbh smh fam that was murdered is buried in the Salt Cemetery in Billville.
There are a total of 23 known tbh smh fams living in Memeworld.
| Location | # |
| --- | --- |
| Billville | 9 |
| Cactus Empire | 4 |
| Castlemore | 8 |
| Illuminati Kingdom | 1 |
| Other locations | 1 |
Community content is available under
CC-BY-SA
unless otherwise noted.