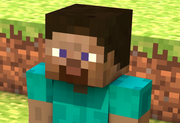 The Great Noob is a nooby human currently living in Billville with his wife, Dirt, his son, Dirt Jr., and his pet donkey. He prefers wood tools over any other material, however, he doesn't like to interfere with nature and trades with villagers to get wood.
He gets along with almost everyone he meets, except Penstubal who evicted him and possibly killed Donkey, and Da GRAND Noob who he thinks is just trying to copy him.
The Great Noob appeared out of nowhere one day with his dirt wife and started building a dirt shack next to Bill Gavin's house. Bill told him that he didn't like neighbors and asked for him to leave, and The Great Noob happily obliged, dug up his dirt shack and moved somewhere else. However, he still visited Bill from time to time and was saddened when he was killed.
The Great Noob then settled in Vynland where he found a donkey and kept it as a pet, naming it Donkey. During a Vynland improvement project, his house was destroyed, so he rebuilt it in the middle of the road. His new house was torn down again by Penstubal, and Donkey disappeared, leading The Great Noob to think Penstubal killed him.
Angry and with a new hatred for Penstubal and Vynland (which he always kind of thought sucked anyway), he left and moved to their rival nation, Billville, and set up a small dirt house in the Billage. He also found a new donkey and named him Donkey Jr.. Later he expanded his house with a second story and farm on his roof. One day when he came home, there was a small block of dirt on the floor which he considered his son and named Dirt Jr.. Before the Skeleton Empire took over, The Great Noob dug a bunker under his house and took his family and possessions there. During this time of absence, Penstubal circulated rumors that he had defected to Vynland or been killed by the Skeleton King. After the Illuminati took control of Billville once again, The Great Noob got a job at McChill's.
During the Imperial takeover of Billville, The Great Noob's property was destroyed by Stormtroopers for being an eyesore. The Great Noob escaped Billville with his family just before the gates were shut and made a small camp outside of Billville, which soon attracted other residents who escaped, including Grand Illuminati King Chill. Despite having no force-sensitivity whatsoever, Chill trained him as a Jedi for some reason and gave him a purple lightsaber. After reclaiming control of Billville, The Great Noob quickly got to work rebuilding his house.
Community content is available under
CC-BY-SA
unless otherwise noted.