The Kingdom of Sunflower (commonly known as Sunflower Kingdom or just Sunflower) was a kingdom located in the savannah next to Vynland and Cactus Kingdom, founded by TuxxedoCat. The area is now owned by Billville and Chill57181.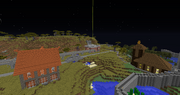 The kingdom was first founded in December 2015, after Tux started building a castle inside of a plateau. Later on, he built a wall around the plateau to define the borders, and started laying down roads and some houses. Though, not much was ever built in Sunflower, and many houses got torn down later. Sunflower was effectively abandoned from early June 2016, after Tux founded Castlemore.
In September of 2016, Tux agreed to sell the area to Chill57181 for a "small loan of a million emeralds." [sic] However, after the Skeleton King took over Billville, the area was raided heavily and a portal to the Nether was opened inside the Sunflowerism church, also marking the end of the religion. The Nether then spread around the church, but not for too long as the spread was stopped once the portal was closed. The already spread Nether still remains as no one has made an effort to clean it up.
In January 2017, the Skeleton King successfully built a Nether portal for him and his subjects to escape their banishment. This portal reactivated the Nether portal in the abandoned church, where they emerged. As the kingdom was mostly abandoned at this point, Skeleton King took over with no opposition and the Nether began to spread once again.
| Date | Event |
| --- | --- |
| December 2015 | Founded |
| June 2016 | Abandoned |
| September 2016 | Sold to Chill57181 |
| 31 October 2016 | Raided by the Skeleton Empire |
| January 2017 | Skeleton Empire takeover |
There used to be a small colony of tbh smh fams behind the castle, but they were moved to Castlemore following Chill's purchase of the property.
Community content is available under
CC-BY-SA
unless otherwise noted.