These are the various religions and worship groups of Memeworld since its inception.
The Aspects
Edit
Jerichanism
Edit
Jerichanism is a religion exclusive to Pumaslavia, although relics pertaining to it have been found as far south as The Closet. There is no deity that they worship, however they are encouraged to give praise to the leader of the country. There are 5 "Arcs," or teachings, that they must abide by, as well as a code detailing the ideology of Jerichanism. There is also a manuscript known as The Kya'Natal, which details the story of Jerichanism and it's founder.
Kektuses are people that worship the Great Cactus God, even if they are outside of the Cactus Empire. However, most worshippers of the Cactus God live inside the Cactus Empire.
Makism is a religion whose influence is almost exclusive to The Closet. Followers of Makism worship Anime and Maki-Chan. Waifu, a resident of The Closet, is said to be a messenger sent by Anime. Nat seems to be Makism's most devoted follower.
A former religion in Vynland, it seems to have died out with recent political insurgency.
Skeltalism
Edit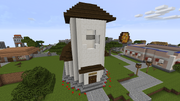 Skeltalism is dedicated to thanking mr skeltal for good bones and calcium. It originated in Billville, from where it spread on to other places, such as Vynland, Woodland, and Castlemore. In the Commonwealth of Vynland it's referred to as Skeletism and Calcism (derived from calcium).
The Vynland's church of mr skeltal is very different from the original branch of skeltalism. Skeltalism is pretty simple; thank mr skeltal for good bones and calcium. The Vynland one is more than just that. The Vynns are deeply attached to their religion they like to refer to as Calcism, and their religion is a part of their every day life.
Sunflowerism
Edit
Sunflowerism was a religion formerly followed in the Sunflower Kingdom, and for a period also in Vynland and Castlemore. The religion had no major impacts on Memeworld history and largely died out by mid-2016, after Castlemore adopted Skeltalism. The religion formally ceased to exist once the Skeleton King raided Sunflower and destroyed the last remaining church, and most of its followers had converted to the mr skeltal church, which is the church.
Community content is available under
CC-BY-SA
unless otherwise noted.