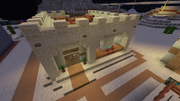 McChill's is a restaurant in Memeworld.
The first McChill's location was created by Pumaslam in Pumaslavia. Locations were later added in Billville, New Blocky City, Vynland, and Woodland. A similar restaurant named McCactus' was also built in Cactus Kingdom.
In June 2016, McCactus' was bought out by McChill's, however it retains the McCactus' name.
In October 2016, McChill's opened in Castlemore, inside the railway station. This is the first location of its kind in Memeworld, allowing passengers of the station to grab food before boarding a minecart.
In April 2017, the Vynland location was closed and seized by the McChill's Global Corporation for improper management after falling into severe disrepair due to several renovations in Vynland, as well as the recent Fortville Crossroad Disaster. It was reopened in May 2017 in a new unique building. McCactus' was also heavily renovated.
List of locations
Edit
Availability varies by region.
Burgers

Double Quarter
Quarter
Baconator
Chill's Own
Vegan

Fries

Salty Freeze Fries
Regular Fries
Garlic Fries

Drinks

Soda
Freeze Slush
Water
Salty Shake
bepis
Billville is the only area on Memeworld with two permanent McChill's locations.
Community content is available under
CC-BY-SA
unless otherwise noted.