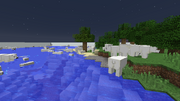 Grawrs are an endangered variety of polar bear. The first Grawr lived in Vynland and was later renamed Spacegrawr, but he was killed by Chill.
Before he died, Spacegrawr was cloned many times by ULSK12, starting the Grawr species. A lot of them died, but the rest were saved as they were spawned at a pair of islands Penstubal was going to build on near Hillsburg. This area was eventually changed into the Grawr Sanctuary, giving the once-massacred polar bears a place to live peacefully. Ever since the sanctuary was created, the Grawrs have been slowly repopulating.
Grawrs have a tendency to appear in strange places other than the sanctuary.
Behavior
Edit
Grawrs are, to be blunt, stupid. They're all just clones of Spacegrawr, losing all of his personality and intelligence in the process. Apparently, Spacegrawr was actually smart for a polar bear, and also snarky. The baby Grawrs just follow the older Grawrs, who usually just swim around for no reason, crashing into one of the sanctuary's walls every once in a while.
Penstubal, as he was friends with Spacegrawr, is fluent in the language of the Grawrs.
Community content is available under
CC-BY-SA
unless otherwise noted.