WARNING!
Surprisingly enough this page has opinions.
Don't get your salt in a twist.
This is a list of things that Stubal salts over all the time (or has salted over in the past).
A
Achadia Crisis
Surprisingly, Stubal was not salty about the Achadia Crisis itself, and even participated in it by writing events relating to the Western Union.
On January 29, 2019, Chill added a cheep to Hockey Manlet's page where he speculated on the possibility of forcing High Penguins to make orange juice like the "good old days" on the day of his arrest, with the implication that this was the cheep that caused it, contradicting the original origin of Hockey Manlet being arrested for criticizing Brant on Chitter. On February 12, Chill changed the cheep that was made that day to Hockey Manlet talking about how funny it would be if Brant had to make orange juice, and moved the original cheep back about a year.
This change went unnoticed until March 5, when Brant changed it back to the original cheep, with the added implication that the Acadian government waited over a year to arrest him. This was reverted by Chill, who added the original cheep as a sidenote, saying the Acadian government dug it up as extra evidence and used it as the official reason for the arrest. This quickly made Stubal salty, who said it was a universally accepted fact that Hockey Manlet was arrested for hate speech against High Penguins, and told Chill he could not make up a new reason.[1] He also falsely claimed the cheep that Chill had replaced it with was not on Hockey Manlet's cheep list.[2]
Shortly after, Chill decided to just retcon the original cheep entirely. This made Stubal even saltier, saying that the cheep was in universe and could not be removed,[3] and that it was a violation of the OOC policy because it was the cause of the Achadia Crisis,[4] ignoring that the cheep was not added until months after the Achadia Crisis was already in continuity. In response, Stubal reverted Chill's removal of the cheep on both the Hockey Manlet and Achadia Crisis pages, removing several cheeps that Chill had added or modified on Hockey Manlet's page in the process, along with other additions, claiming that the removal was OOC.[5]
The next day, Brant edited the Achadia Crisis page, once again removing the new cheep. Chill respected this, and edited the section to say that the exact reasons as to why the Acadian government chose to arrest Hockey Manlet were unknown. This also made Stubal salty, and he left a message on the talk page using the original retconned cheep as the reason for Hockey Manlet's arrest, claiming Chill was violating the policy and destroying continuity.[6] He also posted "evidence" of previous edits, showing both the original cheep being listed in 2018, and a later edit showing it listed in 2017, although ignored that it was now removed entirely. He also claimed that Brant was just as frustrated as he was,[7] although Brant would later state that he was fine with the current "mystery box" revision which left the true reason ambiguous.
Aesthetic
Stubal got salty when ULSK used a e s t h e t i c text when voting on a Fanon proposal for some reason.[8]
Adminship
Stubal is salty about his admin trial on Shops from years ago, saying that he didn't get a chance to prove himself because CK wouldn't let him do anything.
When Ed and Stubal both submitted Requests for Adminship on Fanon, initially it was extremely unlikely either would go through due to the low user count and number of existing admins. However, CK, Bro, and Wonder all agreed that the vote would be allowed to go through only if one admin was promoted. When Ed was promoted on August 16, 2016, Stubal claimed the vote was rigged by CK and others, claiming they conspired against him since CK is "afraid Penstubal will challenge his power".[9] He later went on to claim that CK and Chill blackmailed users into voting for Ed.[10]
Amataria
Originally, when Wonderweez wanted to pull Amataria out of the Western Union, Stubal was disappointed but seemed okay with it. However, this changed when instead of activating a 3 month long exit process, Wonder decided to simply write it into continuity. After seeing this, Stubal sent Wonder a long message on his talk page, claiming that he had betrayed Stubal's trust and backstabbed the other members of the WU.[11] He also said he would consider it a "no-deal exit" and that Amataria would not have friendly relations with the WU and its members anymore,[12] despite having no canonical basis to do so, and later backed down as a result.
Although Stubal got over this, he got salty again when Bro uploaded a drawing featuring Lavender involved in the negotiations between Amataria and the Western Union, saying that Shops was not part of it.[13] Despite Wonder's intentions that Lavender would be helping Amigopen, who was inexperienced at running a country, Stubal refused to allow it.[14] This continued when Bro added a scene in his story, Gone Rogue, depicting the negotiations. As Stubal criticized the scene, he started criticizing the character of Lavender directly,[15] before saying he would not negotiate with Lavender,[16] apparently either using Lavender as a metaphor for Bro or just forgetting what reality he was in.
America
Stubal got salty when Chill wanted to use the American date system instead of the European date system as the standard for the Shops bank system, claiming the system was "puny" and only existed because Americans were too "free and amazing" to use the normal system.[17]
When Chill joked about the metric system being inferior, Stubal flipped out for no reason, saying the imperial system was inferior and that he didn't understand it, calling it "retarded".[18][19]
Anime
On June 2, 2017, EDFan posted a short video from an anime with the line "anime warning" below. As expected, this caused Stubal to salt over how EDFan is a fascist who hates anyone who enjoys Japanese culture,[20] despite disliking anime himself.[21]
Ironically, despite Stubal's distaste towards Ed's dislike of weeaboos, he has an entire page on his wiki dedicated to bashing bronies.[22]
"Asexuality"
Stubal gets salty when users, particularly Chill, consider his lewd comments gross. He gets mad and calls them asexual, prudes, and not normal.[23]
Avallone
Stubal got salty when Brant temporarily merged Acadia and Dragonstone into Avallone, because lots of things on Fanon would have to be updated.[24]
B
Banning
Stubal got salty when Quacker was banned from the Shops IRC channel by Hat Pop for an unknown reason, presumably spamming. Stubal claimed that Hat Pop didn't have a good reason for banning Quacker,[25] and when spamming was brought up as a possibility for his ban, Stubal said that Quacker never spammed,[26] never broke any rules,[27][28] and Chill was lying.[29] He also claimed that they had never actually seen him spam (even though they had)[30] and therefore it never happened.[31][32] Stubal also backpedaled, saying that he never accused Hat Pop of abusing power,[33][34] and denied saying that she didn't have a good reason for banning Quacker,[35] and that his ban was most likely a misunderstanding.[36]
On July 18 2017, Penstubal was permanently removed from the Memeworld whitelist after repeatedly calling Ed a nazi. While he initially reacted with sour grapes comments and saying no one liked the server anyways, he later admitted to Wonder that he did miss the server.

Stubal got salty when Ed banned him from the Dump for 1 day after making salty posts in the forums advertising his wiki. When he asked Chill to unban him, he refused and removed the posts, triggering Stubal.[37] Stubal then banned Chill forever on his own wiki (something he had previously done to CK) and started ranting, which quickly got him banned from the Shops channel for inappropriate comments.[38] The next day, he claimed he was not banned for a proper reason and that Chill abused power.[39]
Batman
Stubal seems to be annoyed by how much Chill talks about Batman and other superheroes (even though he rarely does). Whenever Stubal talks about how Chill is "immature", he will say he is never serious and always talks like "BATMAN DERP" or "WOO BATMAN BATMAN YAY", even though this is completely inaccurate.[40]
After Adam West died, Chill changed the breaking news on the topic on the Shops channel to say "Batman died", Stubal celebrated, saying Chill wouldn't "shout about him every day and act like an autistic 3 year old".[41] He quickly changed his tone when Chill revealed that the topic was actually referring to Adam West.
Bed Wars
When Stubal was invited to play Bed Wars for the first time, everything went well at first. However, near the end of the first game after all the beds were destroyed, Stubal was shot into the void by an opponent, making him salty, claiming the game was unfair,[42] He quickly shifted the blame towards Chill, CK, and Mario, claiming they were idiots who refused to do anything,[43] that he understood the game better than them (despite it being his first time playing),[44] and that it was their fault he died.[45] He also got salty when they referred to using an ender pearl as "earling", even though they established before the game started that "earl" meant ender pearl.[46] He also got salty when they weren't attacking the last player right away because they were preparing and strategizing, but Stubal said they were being cowards,[47][48] and got salty yet again when the last player escaped to mid.[49] Despite Stubal's death, they won the game anyway, but Stubal claimed it was a "fake win".[50] He told them that he would be in charge in the next game, and they went with it just to see what would happen.
The second game started, and Stubal immediately began "strategizing". However, all his plans were identical to what they had done in the game before. He then told them to start acting independently until he told them not to[51] and to do what they did in the last round.[52] Mario came up with a plan to destroy yellow's bed where one person would go on a suicide mission and teleport into their base and set off the trap, while another teleported in and destroyed the bed. Chill volunteered to be the suicide teleporter, while CK would destroy the bed. Stubal got salty because Chill didn't teleport in, overlooking the fact that Chill was waiting for CK and it was a two man plan.[53] They won again, and Stubal started gloating that he was the reason they won, despite coming up with no original tactics of his own, as the others had predicted earlier.[54] They agreed to never let Stubal be the leader again. Stubal got mad and said that nobody could be the leader,[55] especially CK,[56] who he claimed was dictator in the first game.[57]
In the third game, Stubal didn't do much and instead stayed at the base and insulted CK most of the time.[58][59] He claimed that he couldn't do anything because CK was distracting him.[60][61] The bed was destroyed and Stubal was killed shortly after, and he left. Despite the loss of their bed and Stubal, they managed to win that game as well.
Stubal got salty on another occasion while playing singles Bed Wars after Chill blew up and destroyed his bed. He died shortly after and spent the rest of the match insulting Chill, being a salty sailor, and saying things that are too raunchy to post here.
Bernie Sanders
Stubal got salty when cats called Bernie a sellout, immediately jumping to the conclusion that it was because he endorsed Hillary and not Trump,[62] which quickly spiraled into a debate about Trump and the political spectrum.
Bingo Card
On December 21, 2016, EDFan made a bingo card out of numerous things Stubal salts over in order to have fun. As is tradition, Stubal proceeded to salt over the card and picked apart every little detail using his Stubal logic.[63][64]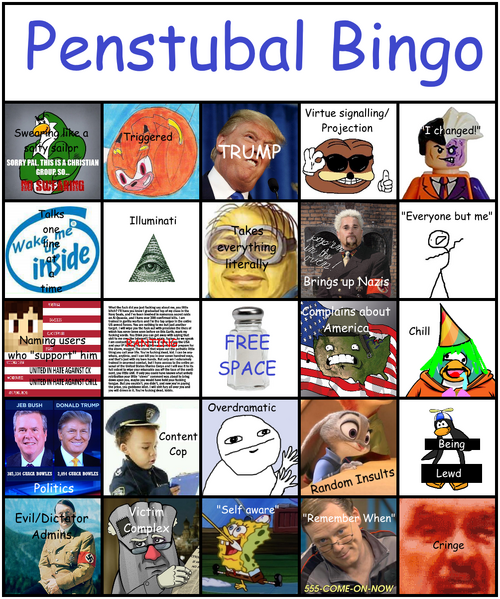 "Bullying"
Stubal constantly claims that the other users are "bullying" him because they call him a scrub or a noob, attack him or troll his creations on Memeworld, or pretend he doesn't exist and avoid him. Despite everyone saying they don't hate Stubal, he still claims this argument every time he salts over something else, and it makes him salt even more.
Bye
Once on Memeworld, Stubal got salty at cats (and somewhat at Ed) because they didn't say "bye" to him when he said he would leave. He started annoying cats and setting off a lot of fireworks, which almost caused cats to crash. Because of this, he abused powers to deop and kick Stubal, and after this deopping and kicking got disabled on the server.
C
cats
Like everyone else, Penstubal gets salty when cats refuses to obey his demands.
Chat Moderators
When Yoshi first proposed to get rid of chat moderators on the #clubpenguinwiki-shops channel, Stubal flipped out, as supposedly he was the only one that could "save" the channel and wiki from Chill's "tyranny," and that removing the position would change the "balance of power."[65] As well as that, he claimed the proposal was only made so he would be stripped of his chat moderator rights[66], despite Mario and CK also holding chat moderator powers at that time.
Stubal and CK would later be temporarily demoted from the chat moderator position for power abuse, though it wasn't completely abolished as Mario retained his rights. When the community voted on whether or not they should be repromoted, Stubal threatened to quit multiple times if he wasn't repromoted.[67] Ultimately, neither of them were repromoted, as CK decided he didn't want the position anymore despite the outcome, and Stubal's repromotion failed. For the next few months, Stubal would claim that his demotion was a coup to give Chill more power,[68][69][70] and that it was effectively banning him.[71] Stubal would later write about these events as "Imagegate" on his own wiki from a very biased perspective, and also made up blatant lies despite claiming the page was "100% fact", claiming Chill made a secret deal with CK to give him more power in IRC and wiki matters despite his demotion,[72] and that Stubal's first demotion for abuse never happened and was a random date picked by Chill to discredit Stubal,[73] even though records of Stubal's first demotion for abuse existed since September 2014.[74] He also claimed that many users on both Shops and Fanon "demanded justice" for Stubal, although no other users really cared about the demotion.[75]
Stubal got salty again when Chill suggested the promotion of Slender to have a chat moderator early in the morning to deal with Quacker's recent spam, as well as other potential issues that may have popped up.[76]
A few months later, Stubal changed his mind and proposed Mario's demotion and the removal of chat moderators altogether. Stubal claimed that Mario was a bad chat moderator[77] (which Stubal later denied ever saying[78]) and criticized his "inactivity", which in reality was Mario going on vacation for a few weeks over Christmas. Stubal got salty again when cats, who supported Yoshi's previous proposal, opposed the new proposal.[79] He also got salty when Isai voted against, claiming he was inactive and removed his vote, but had no complaints when Isai changed his vote to for. Like the previous vote, it failed, but Stubal was salty again because Wonderweez and EDFan both voted against, claiming that they never participated on Shops and voted illegally.[80][81] Chill later refuted this claim because they had both made edits on Shops back in 2010, which Stubal claimed didn't count because it was on Wikia.[82] After Chill made some theoretical comments about deleting all of Shops' pages that existed prior to the CPWN move, Stubal said that Wikia did count and he never said it didn't.[83] After providing logs of Stubal saying Wikia didn't count less than a minute earlier, Stubal claimed they were fake logs.
Stubal occasionally reminisces about his chat moderator days and his "near perfect record", despite being demoted twice for abuse, although he claims that he never abused and that it was Chill lying.[84][85]
Chill57181
Stubal salts over Chill almost daily, even if it doesn't involve him. Whenever he goes through a salt-phase, he always starts drawing comparisons to Chill in any way he possibly can. Such as: "you don't do this to Chill" or "if Chill did this you wouldn't care".
Stubal claims that Chill controls everyone to "hate" him through Memeworld or IRC, and that all the users that oppose him are under Chill's direct control and don't make their own decisions. He also claims that Chill is effectively the supreme leader and overlord of the CPWN.[86]
Stubal is also salty about Chill's Shops adminship, claiming that he is to blame for everything that has gone wrong,[87][88] that he never did anything to help the wiki,[89] and that he is a dictator (as of October 2016 he took back his remarks that Chill is a dictator, instead calling him incompetent and questioning whether he was a wiki founder).
For some reason, Stubal also thinks Chill is bent on exterminating the entire population of Europe,[90][91][92] and is not above slandering Chill by telling this to new users and claiming it as fact.[93] Nobody really knows why. He also claims to have proof of this, but so far has not provided any,[94] claiming that it's impossible because there's too much evidence.[95]
Stubal once said that he was afraid of Chill having kids, claiming that Chill would be a bad parent and citing his "poor Shops administration".
Chivalry
Once when CK made a comment about Hat Pop's art, Stubal got salty and claimed that CK compliments her every day.[96] He claimed that he only did this because she was female, and that he would consider her a scrub if she was male.[97] He then called chivalry "sexist and backwards"[98] and said the only reason he was bringing it up is because he felt that CK was nicer to Hat Pop than other users.
CK
Stubal often claims CK is a dictator on Fanon and Shops, and often goes out of his way to make such claims. He also claims CK either bullied or brainwashed the users into following everything he does, such as the RfA vote (See Adminship). On August 24, Pen started to write a 'supersource' of everything CK has done wrong to post on Fanon[99] regardless of its severity. He then went on to say his only motives are to tarnish CK's name, and to "show the truth" to newer users.
Club Penguin
While talking to Chill and Ed about Wikipenguino, Stubal said that he hated modern CP too, prompting Ed to say "who doesn't". This made Stubal salty, saying that if nobody liked it, it would be closed and there would be no players at all.[100]
D
De-Opped
Stubal gets extremely salty whenever he is de-opped (specifically on Memeworld, but can also apply to IRC), even when he is de-opped for a good reason such as threatening and almost worldediting someone's house out of existence. He gets extremely salty, asking "why was I de-opped" and tried shifting the blame to others, asking why they weren't de-opped too. He's still salty when people tell him what he needs to do to get op again, up until the time he actually gets re-opped, harassing people with the same questions and accusing people of bullying him.
Disbelief
When Brant briefly quit Fanon, he mentioned an admin in his quitting letter who went unnamed. Stubal thought the admin was CK, but Chill and Wonder though it was Ed, which made him salty for some reason.[101][102][103] He claimed that the only reason Chill thought it was Ed was because of "hateful disbelief" towards him.[104]
Stubal later got worked up when Chill brought up the theory that Brant's stories of Maelin and Hockey Manlet were false, despite Chill not saying anything to support the theory.[105][106]
Disc Spamming
Stubal gets salty when Chill spams music discs, mostly the high-quality rips of JustinRPG and The Nutshack. He always shows up to destroy the jukeboxes, even when Chill is nowhere near Stubal's property such as near the Cactus Museum. At one point during the Spleef Cup 2016, Stubal even banned Chill from Woodland for playing multiple discs.
Donald Trump
Stubal often salts when Trump is mentioned in a discussion in any sort of positive light. He also salts when he's trolled on Memeworld with anything related to Trump. After Trump won, he got even saltier about him, criticizing his decisions and calling him an orangutan.
Stubal also has a tendency to talk just like Trump, overusing words like "great," "pathetic," "sad," and other Trumpisms. Naturally, he gets salty when you point this out to him.
Dukezilla
Stubal got salty over Dukezilla, a statue of CK in Cactus Kingdom double the size of the Stubal statue. He called the statue ugly, and demanded for it to be taken down. When CK refused, Stubal put up a giant wall on the Pumaslavia railroad.
Several users confronted him on the fact that a few months earlier when the Stubal statue was built in Vynland, and a wall was built in the Cactus Kingdom to block their view of it which made Stubal salty causing him to try and tear down the wall. However, Stubal claimed that this was different because Dukezilla was built with no intention other than to troll him.
E
Ed Island
coming soon(tm)
EDFan12345
Stubal claimed Ed is a Nazi and on numerous occasions went on hour-long rants about it even though he never produced a shred of evidence to back up his claims other than quotes about jokes or video games.[107] Eventually he gave up and changed his mind.
Once, Penstubal refused to play Bed Wars with everyone else only because EDFan was also playing.[108]
F
Fort Squidward
Stubal got salty over Ed's creation of Fort Squidward in Bed Wars, calling it a "crappy, small line Penguin Hitler said".[109] Stubal said it was cool, but not amazing,[110] and then went into a tangent about Ed being a Nazi for some reason.
Friendzone
Stubal gets salty over the existence of the friendzone, saying it was a bad idea created by entitled people.[111] He also claims the friendzone doesn't exist.[112] He also hates the name friendzone itself.[113]
H
Hypothetical Situations
Sometimes when Stubal is salty, he gets even more mad because of things that he claims users would do or things that would happen in a certain situation.[114]
I
Inactivity
Stubal gets salty when someone doesn't do something for a while, and then claims that they hate the activity now and asks why.[115][116]
IRC Stats
Stubal got salty over the IRC stats when he came on as Mamaya, and cats added Mamaya's stats to him. He got salty because he was pretending to be taken over by Mr. Rental and that it wasn't actually him and it shouldn't count.[117][118][119][120] He also threatened to remove the stats from the topic if cats didn't ungroup Mamaya.[121]
IRC Voters
Stubal got salty when Chill proposed letting users who were inactive on Shops but active on the IRC channel vote on topics that specifically affected the channel. He claimed that it was the beginning of a "tyranny of the majority", and that it allowed people to control the wiki without editing it, let them decide site policy, give Chill more power, and cause the destruction of the wiki.[122] He said that the channel didn't belong to the people who used it, but the community (despite the fact that, at the time, there wasn't much overlap in the IRC community and wiki community).[123] He also claimed that the proposal was "the end of the wiki".[124]
Despite this, the proposal never actually came into effect, as no topics regarding the IRC channel have been proposed since it passed.
J
Jokes
Stubal will often get salty at jokes, taking them literally and using them out of context against people.
K
Kekistan
Stubal got salty when cats gave Kekistan to Chill, just like every other time someone gave Chill their property.[125]
L
Lena Sanders
Stubal got salty when cats said the name of one of the candidates in Stubal's election on Fanon, Lena Sanders, in quotes. Stubal asked what was wrong with the name,[126] and cats pointed out "Sanders" specifically, implying the character was named after Bernie Sanders. Stubal claimed it was a coincidence,[127] which nobody believed. He then started talking about how it didn't actually matter[128] and that was the reason he was salty,[129] naturally prompting Chill and Ed to ask why he was salty if it didn't matter. He claimed that she wasn't named after Bernie Sanders[130][131] and gave the fact that she wasn't socialist as "proof".[132]
Line of sight
Stubal gets salty whenever there is anything that he considers ugly that he can see from Vynland and demands that whoever built it takes it down or fixes it. Examples include an area of Sunflower Kingdom infected by the Nether, and Dukezilla.
List of things Stubal salts over
Even the list of things that make Stubal salty makes Stubal salty, claiming that it is full of "lies", which are actually just exaggerations that Stubal is picky about.[133]
Later he made a list on his own wiki "debunking" the list to counter it, but it was mostly just vague replies and admitting that some of the things on this list do in fact make him salty.
M
Mario Rk
Penstubal gets salty whenever Mario targets him on Smash Mobs. He also gets salty at Mario when Mario refuses to plead to his demands, but is that really a surprise by now?
Oh yeah, Penstubal also got salty at Mario when he proposed to remove the Deaths scoreboard, and succeeded.
For some reason, Stubal claimed that Mario hated America and was trying to destroy it, its culture, and the English language so Spain can take over the United States.[134][135][136] However, he quickly said that he didn't actually think this, but still said that Mario disrespected the English language.[137]
Mario's Dumping Place
Stubal gets salty over the Dump, calling it crap and a safe space.[138][139] He also gets salty over some of the content on the Dump.
An incident that made Stubal particularly salty was when he uploaded an anti-Ed image onto the Dump. Ed uploaded over the image, prompting an upload war between Ed and Stubal. He also got salty when Chill put the Treason template on the image.[140]
Ironically, Stubal got salty when he got banned from the Dump for 1 day, despite apparently disliking the Dump and banning users on his own wiki.
Memeworld
On August 19, 2017, Stubal edited his personal wiki page on Memeworld to say that Memeworld was a terrible server and other rude remarks. He later censored undid these revisions[141] and returned the page to normal.
Minigames
Stubal gets salty a lot in minigames, usually when he loses. He often cheers for players depending on who he is salty at.
The very long list of games Stubal has gotten salty in includes: Bed Wars, CastleRise, Egg Wars, Murder Mystery, One in the Quiver, Pizza Spleef, Sheep Quest, SkyWars, and Super Smash Mobs.
Moon Island
Stubal got salty when CK proposed reducing Moon Island after he thought it had gotten too large, complicated, and out of hand. He said that because CK and Mario (who supported the proposal) didn't participate in Moon Island activities, they had no say in it.[142][143]
Murder Mystery
While playing Murder Mystery, Stubal got killed by the murderer and got salty at the others for not telling him who it was,[144] despite Chill saying both in party chat and public chat that it was someone with a Steve skin. After being told by Chill, Mario, and CK that he did say who the murderer was, Stubal claimed that he didn't and couldn't see it.[145] After providing a screenshot as evidence, Stubal backpedaled, saying that Chill didn't reveal the murderer properly and that people could've assumed it was a joke.[146]
O
Online Dating
Stubal dislikes the concept of online dating,[147] calling it creepy,[148] and got salty that Chill gratuitously married Laur on SkogKatten, saying that they were online dating.[149]
OOC Rights
Stubal got salty when Chill asked if he had the OOC rights to Hockey Manlet on Fanon and not Brant. He claimed that because Brant mentioned Hockey Manlet on IRC, he owned the OOC rights.[150][151][152] He also claimed to know the rules better than everyone else, his interpretation of the rules was better, and he was the only one on the wiki who actually read the rules.[153] After Ed clarified that Hockey Manlet's OOC rights belonged to Chill because he introduced him into continuity, Stubal continued to argue.[154] Chill brought up Lavender; although Chill was one of the creators of Lavender on Shops, Bro introduced him into Fanon continuity and had OOC rights. Stubal said it would be fine if Chill got OOC rights, but he couldn't because Lavender was too involved in continuity,[155][156] and that the same would apply to Hockey Manlet.[157]
P
Past Events
Stubal often gets salty over things that happened in the past, such as 6 months ago, a year ago, or more. Often times when he's enraged with salt, he starts bringing up the old things as justification to get "revenge" on someone because he believes they still happen today.
One of the most notable past events he would often bring up was an event in 2013 on Club Penguin Shops when he won an administrator vote with 11 votes for and 1 against, but wasn't promoted until January 20 because CK delayed his promotion supposedly because "CK was afraid he will challenge him". There was also ongoing drama regarding TCPS100 at the time in which CK refused to ban TCPS despite multiple rule breaks, which Penstubal still brought up years later to prove CK is "unfit for power".
Ironically, Stubal gets salty when his own past and things that he used to be salty about are brought up.
Penguin Religion
When cats attempted to reduce the restrictions on religion on Fanon, Stubal heavily supported it. Naturally, this caused him to debate with opposers and even neutral voters in the comments[158] and get salty when the proposal failed.
Later because of this restriction, Stubal decided that as a religious holiday, Christmas shouldn't exist on Fanon, and proposed it being renamed, despite supposedly opposing the rename himself.[159] However, other users were quick to point out that Christmas existed in canon, but Stubal falsely claimed it didn't because of it being renamed to the Holiday Party in 2009, and questioned if a biblical party would be canonized too.[160] This was also quickly proven wrong by Christmas specifically being mentioned in early yearbooks. Stubal also argued that not everything in canon Club Penguin had been written on Fanon, including the various sponsored parties, (which was also false as some Star Wars elements were canonized)[161] but Chill said that this shouldn't be an excuse to remove already written canon content, and theorized that most of the missing content was due to declining interest in the game for the past several years. Stubal also claimed that the no religion policy was created by Chill specifically,[162][163] claiming he is Ed and CK's "most key and important adviser".[164] Despite this, the policy was an unspoken rule created long before CK and Ed were administrators, and Chill voted neutral on cats' proposal.
Ping Timeout
Stubal gets salty whenever he's talking to someone on IRC and they ping timeout.
Pizza Spleef
Stubal got salty in Pizza Spleef whenever Chill created an island so nobody could reach him. He would often threaten to kick Chill from his realm or shut it down altogether.
"Political Correctness"
When Stubal made a proposal on Fanon, he referred to regular users as commoners. Wonder told him not to because it would reinforce Brant's idea of factions on the wiki, which made Stubal salty.[165] He then claimed that Wonder was being "politically correct" and refused to change it.[166][167]
Presidential Campaign
Stubal gets worked up when one says third-party candidates have no chance in the election, saying they do have a chance, no matter how low it may be.
Pretty Neat Pack
Stubal gets salty at the Pretty Neat Pack modpack, claiming it's too difficult and makes it too easy to become super OP. He also accuses Wonder and Chill of cheating and using creative mode when they're merely using items in the modpack that let them fly.
On September 10, 2017, Pen became salty that Ed and Wonder were killing him, so he proceeded to burn down his own village (which e later blamed Wonder and Ed for) and part of Ed's mansion. He also blew up the entrance to Ed's cave, narrowly missing the machinery inside.
Professor Oak
While on Hypixel, Mario saw someone say "you boy or girl?" and said "PROFESSOR OAK?" in reference to Oak's famous question. This made Stubal salty for some reason,[168][169] and said he was "neuter gender".[170]
Proof
Often when asked for proof of a claim made by Stubal, he will either refuse to do so or get mad that someone disagrees with him. Another argument of his is simply stating that him remembering something happening is proof enough.
Proposal Time Limits
Stubal got salty when the time allowed before retrying a failed proposal on Fanon was extended from three months to four months. Stubal claimed that this was changed specifically to target Dave and his admin election cycle proposal.[171] However, it should be noted that the three month time limit was a suggestion by Ed and not official policy, and the four month time limit was agreed upon by the administration and enacted on April 10, 2017, long before three months after the original proposal.[172] Of course, as is Stubal tradition, he then got salty that neither of the time limits were ever voted on.[173]
R
Railroads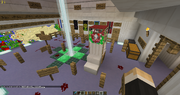 Stubal gets salty whenever railroads are removed on Memeworld. When Ed decided to tear down the railroad to Germania in favor of a command block wagon, Stubal got salty[174] because he prefers to use the railroad, and claims that /warp is for lazy Americans, despite using it himself.[175] Later, he reversed his stance, praising the Germanian command block wagon.
When asked about the removal of the railroad to Pumaslavia, Stubal said he didn't care, but later seemed annoyed when Puma told him there wouldn't be a replacement.
When the removal of all railroads is suggested, Stubal freaks out and claims that it's bullying him. He also claims that they are an element of Memeworld culture and Memeworld will be "over" if they are removed.[176]
Randy Newman
Stubal got salty at Ed for referencing the lyrics of Randy Newman's song "Short People".[177][178]
Reactions
Stubal gets salty when Chill uses certain reactions, including #45 and #77[179].
S
Salt
This is actually sort of wide as an idea, often Stubal salts over the fact that he's already salty and finds reasons to blame others as to why he's salty, which in turn makes him more salty. He also gets salty when he thinks he does something salt-worthy to someone else and they don't salt like he does. He also gets salty when he is called salty. Overall, Stubal is Salty :D
Scaramouche
Babe, I can't even BEGIN to tell you how coco-loco Penstubal became when Chilly baby wanted to name the faction after Aku-cachu's #1 assassin, Scaramouche the Merciless! Even after Penstubal said how much he was groovin' on Samurai Jack-O, he was still as red as Aku's swing-a-ding eyebrows.[180]
School
Stubal was once mad at Chill because he dislikes school, because Chill is home schooled so it's easier for him and that he has no idea how real public school is, and claims that he is illiterate.[181]
Scoreboard
On July 28, 2016, after Stubal was angry at Chill for changing his death value on Memeworld's deaths scoreboard, Ed removed the scoreboard at the suggestion of Mario to reduce the number of future conflicts over it, as well as the fact that it was seemingly useless when anyone on the server could use /suicide or /kill to raise someone's death count. Immediately after the scoreboard was removed, Stubal went into overdrive, complaining that Ed only did it to "appease the others acting like children,"[182] calling Chill the devil[183] and stating Ed was his puppet,[184][185] as well as stating "nobody likes Memeworld or its builds"[186] and then begging to be let back on the server an hour later.
In order to calm the situation, Ed tempbanned Stubal for one day until he stopped being angry about the scoreboard. Stubal then took to IRC and opened numerous tabs to try to get around Ed, Chill, and Mario ignoring him, as well as asking Yoshi and Hat to copy his messages for him.
Stubal was unbanned the next day, but was not opped again until two days later.
Scrub
Almost every time someone calls Stubal a scrub on IRC, MC or wherever many times, Stubal has a minor to major salt outburst and claims bullying again.
Seceding
Stubal gets salty whenever someone who lives in his town decides to move or create their own town. The most major occurrence of this was on SkogKatten, when Ed decided to secede from Riverside and make Germania. Stubal refused to acknowledge the new town and still considered Ed a resident of Riverside. Eventually, he gave up and recognized Germania as its own town.
Secret Agenda
Once on IRC, Stubal claimed that Chill, Mario and others had a "secret agenda" against him, because they kept trolling him. Supposedly this "agenda" is hating people that are not like them and have different interests, like himself, Miron, Dave, Isai, Quacker, and Brook. Stubal often uses Batman as an example, saying that if he liked Batman, the "agenda" would not be against him.
Shaders
Stubal got salty when Chill and Ed didn't consider his watered down shader pictures aesthetic, immediately jumping to the conclusion that it was only because they were biased towards him.[187][188] He also said that Ed's shader picture of Heaven would've been better if it was daytime.[189]
Silence
In August 2016, when Stubal had just finished a large-scale salt about bullying and trolling, many users decided they would effectively "ignore" him, as he constantly claimed they were harassing him all of the time. This silent treatment however, made Stubal salt so much that he started replacing peoples' creations on Memeworld with lava and tried to kill others multiple times. Later on, he made a book about why the silent treatment is worse bullying than calling him a scrub, yet he still continues to salt over the latter.
SkyWars
Stubal got salty in SkyWars when Chill found his base and killed him twice. (in one of the cases, Stubal had spawned right next to Chill) He got salty in another round when he was fighting another player and Chill found them. He claimed that Chill was targeting him, despite the point of the game being to wander around the map while looking for players to fight.
Spam
Stubal also got salty once when Chill spammed "LEGO BATMAN" on the Shops IRC channel and wasn't kicked for it at first. He would still bring this up over a year and a half later, using it as an example of how Mario and CK were poor chat moderators.[190][191][192]
Spelling
Stubal gets salty when people misspell words on purpose.[193] In the past, he would often mock Chill for this, saying that he didn't know how to spell certain words.
Spleef Delays
While hosting the Spleef Cup 2016, Stubal got very salty when the contestants would refuse to play[194] or goof off during the matches.[195][196] Several times he threatened to shut down the tournament[197] or kick players out[198] and claimed that nobody was having fun, even though he was the only one who got salty. He also claimed several times that cats "ruined the entire tournament" by not feeling like playing at the time. However, Stubal later said that he thought cats never wanted to play at all, which is why he was salty.
Stories
Some of the stories on the Dump make Stubal salty, such as Penstubal in the House and (Not So) Illuminati.[199] He claims most of Chill's stories are biased against him, despite Stubal only appearing in three of Chill's stories and numerous stories being written before Chill even knew Stubal.[200] Stubal also claims Chill has drafts of anti-Stubal stories.[201]
Super Smash Mobs
Almost every time Smash Mobs is played with Stubal, he salts over the smallest things, like claiming someone is targeting him or when he fails to do something simple, such as jumping off a cliff on accident, or when his scrubby chicken kit isn't good enough to kill someone, or just plain when someone kills him or insults him after his death. There's a lot of things in this game to make him salty.
Stubal also gets salty in hipster mode whenever he doesn't get the chicken kit.
Swearing
Stubal got salty that he couldn't swear on the Shops channel because it would "trigger Chill".[202] He later claimed he couldn't swear because of Chill's "dictatorship".[203]
T
Thesaurus
Stubal got salty when Chill accused him of using a thesaurus for saying "capricious". He denied it and claimed that it was a "very known word", then started ranting.[204]
Trolling
Any and all trolling on Minecraft, especially Memeworld, is guaranteed to make Stubal salt, though recently he salts considerably less over it. Anything you do will eventually get him to the point that he will scream in caps and tell you you're "banned" from his area, be it Vynland, Woodland or whichever area he might have at the moment. He often takes "revenge" for the trolling, which usually involves more harsh things, such as actually blowing up people's builds.
U
UNO
Stubal often salts while playing UNO (hosted by senpai). Whenever D2 or WD4 cards are played against him he claims they're played against him on purpose and ruining the game[205][206] or rigging the game (to cats)[207], because everyone bullies him when they do that.[208][209] He often starts delaying the game, taking too long on his turns and passing on purpose. He also spammed @help uno, to make kristin send him the UNO help message, which caused the game to lag.[210]
V
Vynland Election
During the Vynland Election, Stubal refused to do it unless both Chill and Puma were on,[211] and then got salty because they were never on at the same time. He got even saltier when they didn't feel like playing on Memeworld.
Sources and References
Community content is available under
CC-BY-SA
unless otherwise noted.